Your bathroom is an important part of your home
Although bathrooms aren't as public as the kitchen or living room, they are still vital in the functionality of your home. Plus, a newly remodeled bathroom is a great way to raise the value of your home.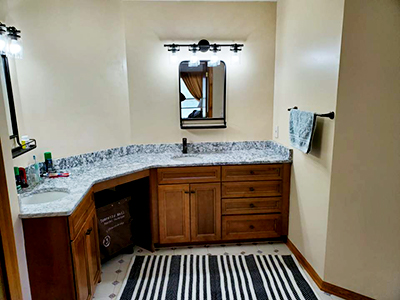 There may be a few different reasons why you need a complete bathroom remodel. You may be unhappy with the design and storage, or perhaps it's outdated. Other circumstances may force the need for a complete bathroom remodel, such as accessibility. No matter the want or the need, we are here to help.
When you remodel your bathroom with Houston Services, you can expect quality work paired with beautiful design. We can remodel all types of bathrooms, from masters to half baths and new bathroom additions. We can do everything required in a bathroom remodel, including tile work, electrical and plumbing, so you don't have to worry about hiring additional contractors.
The best part is we work with you to create your design that matches your style and fits your budget. We provide a bathroom renovation estimate, and from there we can help you make decisions on sinks, toilets, fixtures, and tile to bring you the bathroom you want. It doesn't matter if you're the type to know exactly what they want or if you don't have a clue, we guarantee to provide you with something you'll love for years to come.
If you are still looking for some inspiration, check out our gallery with some before and after pictures.
Contact us for a Bathroom Renovation Estimate
We dedicate ourselves to our customers. If you are interested in working with Houston Remodel Service on your next complete bathroom remodel, then contact us today. We help you with your bathroom renovation estimate and all of the steps in between until the project is completed.