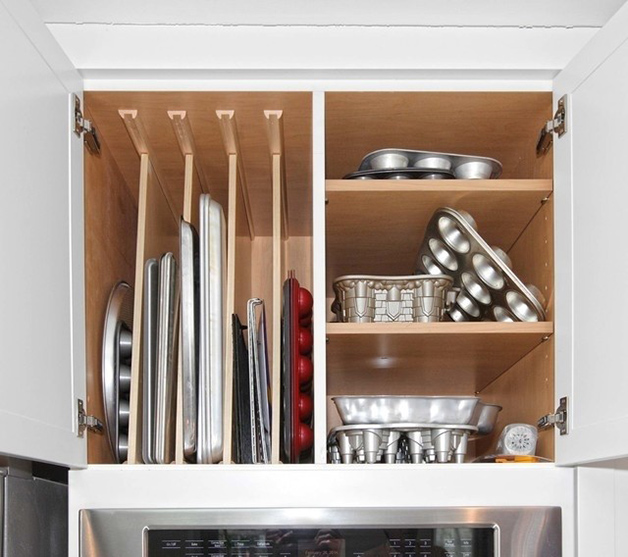 Every ordinary kitchen is made great by adding exceptional storage. A kitchen without ample storage provides frustrations when it comes to organizing, cleaning, cooking, and prepping. But, a kitchen with storage can be a breeze to work in, to gather in, to celebrate in and more.
Many of those who have kitchens with little to no storage are in that position because the kitchens have little to no space. Smaller kitchens are common but seemingly difficult to workaround. However, Houston Services has a few tricks up our sleeves when it comes to storage.
Since we have the expertise to remodel a kitchen from the floors up, we know all the tiny pieces that go into a functioning kitchen. Many believe their kitchen requires an entire remodel to provide the space they want, but we're here to offer a few tricks on how you can add storage to the space you're in.
Utilize Door Space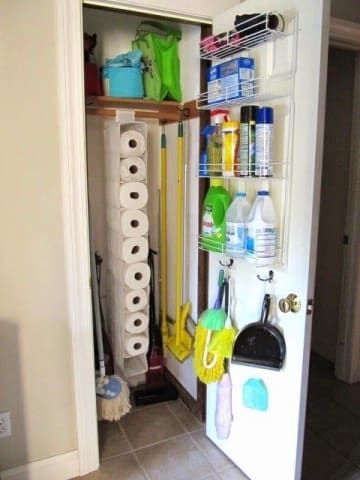 If you have a walk-in pantry or kitchen door, you have the option to utilize this space to hang and organize whatever you see fit. You can add a hanging spice rack, or use it to keep all of your cleaning utensils.
Even if you don't have a door that could use this specific storage solution, you could also try a smaller version on the inside of a cabinet door. Racks can be mounted on the back of cabinets such as the ones under the sink where shelving doesn't get in the way. This can be a great place to put trash bags, paper towels or even foil boxes.
Modify Your Island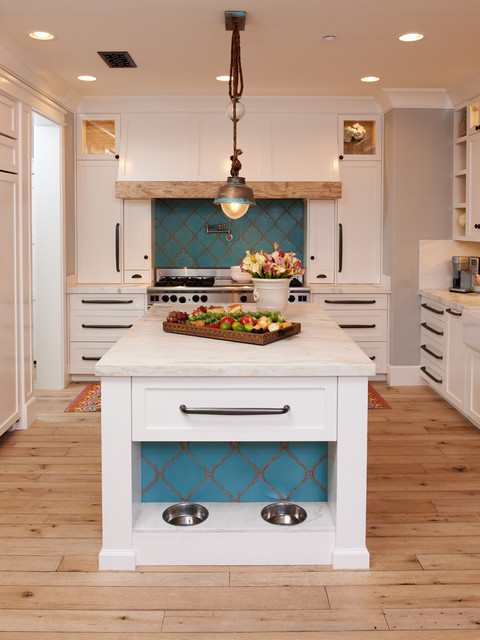 Adding shelving, whether built-in or under an overhang, can give you space where you need. Insert selves in your island to display your cookbook collection or stack dishtowels that you want in a split second. A pet-friendly home could also add built-in pet bowls to keep them off the ground and out of the way but still easily accessible for your furry friend.
Pull-Out Shelving
Having pull-out shelving can be your saving grace in the kitchen when it comes to pots and pans. Say goodbye to the days of pots being pushed to the back of the cabinet and digging through stacks of pans to find the right one. Pull-out shelves make it easy to organize, put away, and grab your pots and pans, even the pesky ones in the back.
Cookie Sheet Drawer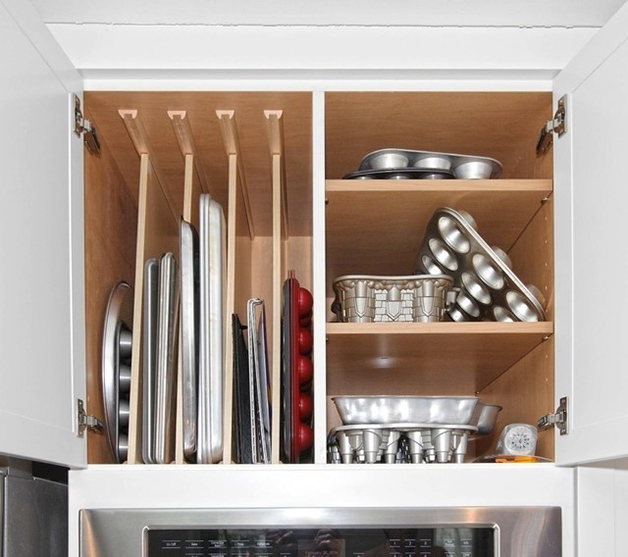 Cookie sheets can easily clutter a cabinet when not organized. Muffin tins don't stack well with cookie sheets, and don't get us started on where to put cutting boards! Adding some simple dividers in a drawer or cabinet can make accessing your baking pans easy and accessible. If you don't have a drawer to spare, try a narrow pullout near the stove or add the dividers to a cabinet above your refrigerator.
Extra Counter Space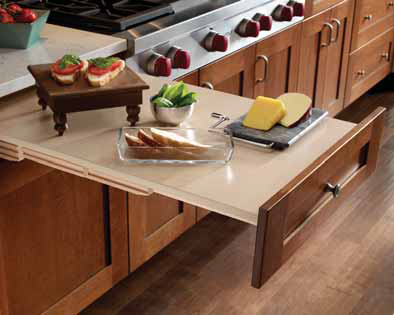 Counter space in a small kitchen can be a huge dilemma. One solution is by having a pull-out cutting board installed between a drawer and a countertop. This way, whenever you need more space, you simply pull it out and you have it!
Another option could be installing a rolling cabinet or cart. Acting as both a counter and storage, this can be a great addition to any kitchen. The cabinet is placed on wheels, and when rolled out has another countertop on top of it. This can work as a kitchen island or even a bar cart when rolled into another room.
Take Advantage of Your Ceiling
Hanging kitchen items can be a great way to get tools out of cabinets and doors to free up space. Often times we see racks hanging above kitchen stoves with pans and utensils dangling from above. Not only can it add a great, homey touch to your aesthetic, but it also adds room to cluttered cabinets and makes everything increasingly reachable.
The Appliance Garage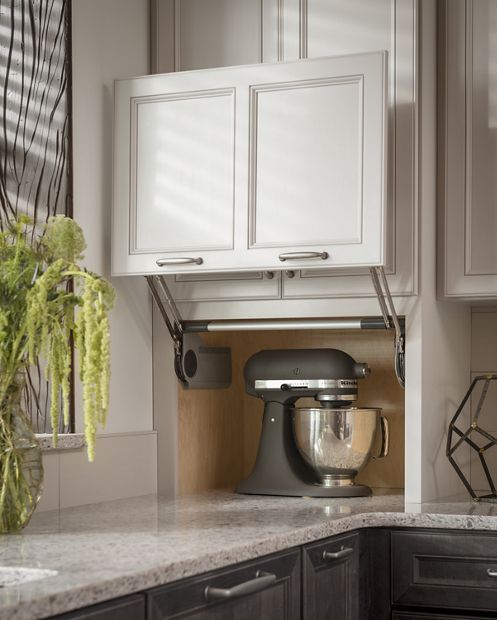 Wouldn't it be great to hide the toaster and the coffee machine after you use it, but still have it handy for everyday life? Bring in the appliance garage! This handy cupboard still sits atop your counter but has a door that matches the rest of your cabinets. Adding this keeps appliances nearby but out of sight.
What Storage Solution Could Your Kitchen Use?
Could your kitchen use an update on storage? Contact Houston Remodel Service today! We have many more ideas than this list that could help you have a more functioning kitchen no matter what the size. Give us a call and we'll give you a free estimate!